Cut the 1" PVC into 5 pieces; 5', 3', 4', 2'8" and 2'5". You may want to label the pieces now to keep from mixing them up, I also put "B" and "T" (bottom and top) on either end of pieces
1,2
&
3
. Cut the 1 1/4" PVC into a 5' length with one angled end, this will be the
base
(the angle will help when you drive it into the ground). I cut the PVC w/ a hacksaw, a dremel would work, PVC is relatively soft stuff so it shouldn't be difficult.
Glue connectors to the
top
end of pieces
1
&
2
. Brush the cement on the pipe and the inside of one half of each connector. The cement give off a large volume of fumes, make sure you have PLENTY of ventilation.
(the instructions for the cement may say to use primer on the PVC before gluing, we don't need to do this as the pipe won't need to stand up to water pressure)
Push the connectors onto the pipe, making sure they seat all the way down.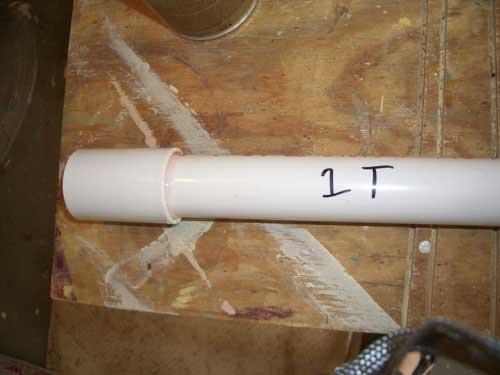 Glue and join pieces
4
&
5
using the "T" connector (see the blueprint above). Piece
5
is there to serve as a counterweight to
4
which will have the flag on it. If you want you could fly another flag on
5
, or use it to hang a lightstick to see at night.
Wait ~15 min for the cement to cure, then join but
do not
glue pieces
1
&
2
, making sure they are pushed together as far as they will go.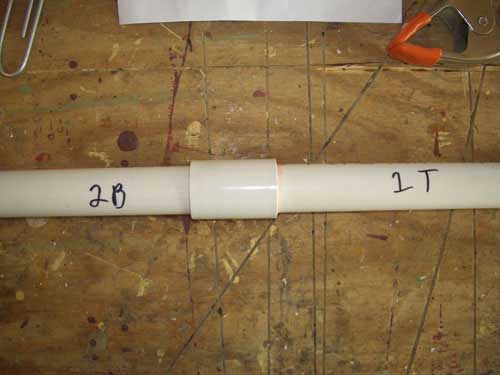 Drill a hole through the connector and piece
2
off center
.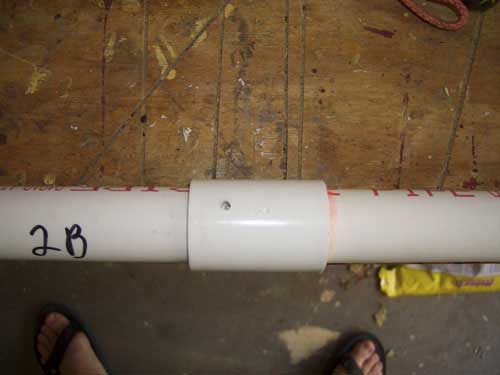 The hole was drilled off center so that a cotter pin could easily be inserted.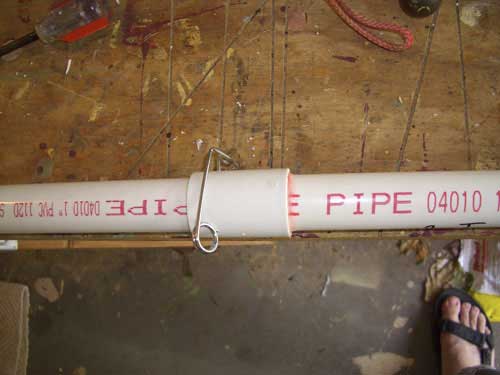 This will hold the pieces together but allow them to be disassembled when needed. Repeat the above procedure for pieces
2
&
3
(it may be easiest if you take
1
&
2
apart first. Then repeat with
3
and the "T" connector (in the pic below
5
is not glued into the "T" as I did steps out of order).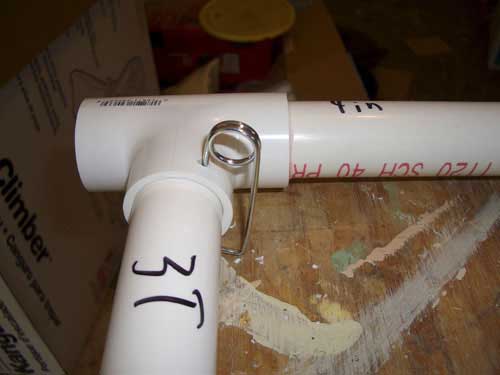 Drill a hole through both ends of piece
4
, then run a string between them. This will secure the flag.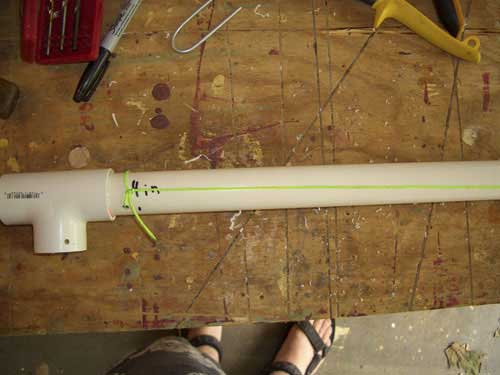 Thread the flag onto piece
4
underneath the string, then tie the sting over the flag so that the flag can't slide off. The pieces can then be assembled.